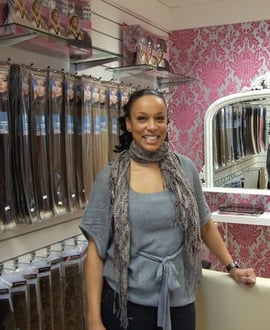 Emilia Ogoo – Hair extensions specialist
Friday, 16 January 2009
By Georgina Heffernan
Hair extensions allow stars to change their look as often as they change their wardrobe. Singers Beyonce Knowles, Jennifer Hudson and Jessica Simpson, and models Naomi Campbell and Tyra Banks all make no secret that they wear them. Extensions are becoming more and more popular and with many celebrities now opting for the many different types and styles of hair extensions the trend is set to grow.
If you've been wishing for long hair without the hassle of growing it out or are searching for a way to add fullness to your 'do, check out a new business in Clondalkin.
Glamour House, specializing in hair extensions specifically matched to a client's hair colour and texture, recently opened up shop on the main street and since then it's been doing a roaring trade.
Owner Emilia Ogoo has been working as a hair extension specialist for over ten years, so it would be fair to say that she knows a thing or two about hair. We catch up with her to find out a little more about hair extensions and their appeal.
Georgina Heffernan: What's the attraction of extensions and why, do you think, are they so popular?
Emilia Ogoo: Women love hair extensions because they can just transform your look in just a couple of hours. I have over one hundred clients and they all come to me for different reasons, whether it's just to add extra volume or to cover a bad or unloved haircut. Women always say you can wear a new outfit but if your hair isn't right then you just don't feel right. When they have their hair extensions in they say everyday is a good hair day.
GH: Does it take long to get a full head of extensions and how long do they last for?
EM: I am experienced in lots of different methods but these days concentrate on the Non-glue methods which are non evasive and allow the client to re-use the hair over and over again. With two of my most popular non-glue methods, micro-locs and the flat weave system, a full head of extensions can be applied in two – four hours depending on the system of choice.
GH: Why did you decide to open your own shop – is there much of a demand?
EM: I decided to open the shop because I have been freelance for a number of years now and have built up a good client base and felt that now was the time to branch out into the other areas of the hair extension business. Glamour House is not only a salon it is also a retail shop filled with all different types of hair extensions from Braided head bands to packets of Clip-ins.
GH: Where does the hair come from?
EM: There are a lot of urban myths behind human hair, like it comes from dead people and all manner of strange places. Say for example the hair comes from India, in most cases this hair is sacrificed at a religious ceremony. The Indian women will sacrifice their beauty (which is their hair) to the Gods to help them with whatever situation it maybe. The hair is shaved by a monk of forms and is then sold on to the hair extension business. As there is no benefit system in place in this type of country the money which is made from the sale of the hair is then used to feed the poor (who come to the temples to be fed).
GH: Who is your 'typical' customer?
EM: I must be honest and say that I do not have a stereotypical customer. Hair extensions used to be for young twenty something's who wanted hair down to their waist the ladies who come to me are so wide in age and all the reasons so different for getting them. Only a few days ago I did a scar cover up job, added length to a mohican and full head of hair extensions all in one day!
GH: Many people are nervous about getting extensions as they think that they'll damage the hair- is this true?
EM: I recommend all non-glue non-damaging systems to my clients. I have tried all of the systems from braiding, bonding, shrink links and more, for around four years now I have used only non-glue systems as they are the safest!
GH: How do you get an exact colour match?
EM: Gaining an exact colour match is the easiest part of the hair extension process although the most important along with system choice. The colour match is attained by matching the client's hair up alongside a ring filled with a wide range of human hair colours. Once the colours are picked these are then blended to attain a natural look.
GH: How often do you need to get your extensions replaced?
EM: With one of the non-glue systems you after the initial outlay for your hair you can reuse these extensions over and over again, with only possibly having to buy an odd packet of hair here or there. I have known clients reuse their hair for up to a year or more.
Glamour House. 49 Tower Road, Clondalkin, Dublin 22.
PH: 014576731